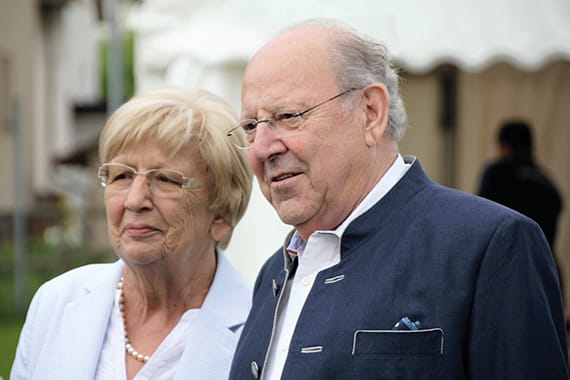 Martha and Wilfried Ensinger
It was back in 1966 that Wilfried Ensinger began the production of stock shapes made of technical plastics. With the support of his wife Martha and a rapidly growing team of specialists, the fledgling enterprise grew within just a few decades to become the globally active Ensinger group which today employs a workforce of around 2,500. After handing over the reins of corporate management to the next generation, the founder took up a position on the plastic processing company's Supervisory Board.
The commitment of Wilfried and Martha Ensinger to the Ensinger family business has always gone hand in hand with support for people in Germany and overseas. Born out of their Christian conviction and with the aim of helping others and fighting injustice, the couple launched their first aid project in Brazil as long ago as the seventies.
Numerous activities were added after the Wilfried Ensinger Foundation was founded in 1997. Most of the projects, including the construction of schools in developing countries and the promotion of cultural programs and educational institutions in Germany, have been supported over many years.
In 2005, Wilfried Ensinger was awarded the Federal Cross of Merit. The University of Stuttgart appointed him Honorary Senator, and the town of Rottenburg am Neckar honoured his outstanding commitment with its Gold Medal. Together with his wife Martha, he was awarded the Papal Order of St. Sylvester.
On June 27, 2017, Martha Ensinger sadly passed away after battling a serious illness. In recognition of her commitment to charitable causes, the name of the not-for-profit foundation has been changed to the Wilfried and Martha Ensinger Foundation.
Board of Trustees

The Board of Trustees of the Wilfried and Martha Ensinger Foundation comprises seven individuals who bear responsibility for ensuring that the objectives and wishes of the donor are implemented in accordance with the constituted rules of governance. Board Members Edith Holzberger and Theresa Wetzel supervise the Foundation's projects.

The voluntary commitment and lean structures of the Foundation permit the entirety of the available resources and donations to be used to benefit the supported projects and causes. Particular importance is attached to project supervision and monitoring. The members of the Foundation meet regularly on site to ensure that the set objectives are being met.